Shop for KVM Raritan Products

Raritan P2-UMT1664S Paragon II Cat 5 Matrix Stacking Switch 64-port ( Raritan Paragon 2 System )
Description:
The Raritan Paragon P2-UMTSTacking Unit is purely a Paragon system stacking unit with expansion ports only made to be used with another existing Paragon Switch. It helps expand port capacity up to 128 non-blocked ports with less cable than traditional cascading.

Please note the Paragon Stacking unit acts as part of your existing Paragon System so we recommend contacting us to discuss the compatiblity with all of your existing Raritan Paragon equipment.
We can give advice on the correct Firmware versions and hardware versions to assist your expansion plans and make this an easier process.

By stacking P2-UMTStacking unit with the P2-UMT832M or UMT1664M switch, you can reduce the clutter of multiple cables between tiers and save rack space and HVAC costs.

The Raritan Paragon II, the industry's best stackable Cat5 KVM (keyboard, video, mouse) solution, gives IT professionals the power to access and control servers and other network devices anytime, anywhere. With Paragon II (Paragon 2),
you can stack up to 128 ports per switch and add up to 10.000 ports via multi-dimensional expansion. Raritans's Paragon II has superior KVM switch technology that dramatically reduces equipment costs and optimizes
space utilization. Whatís more, this generation of Paragon 2 provides the highest levels of manageability, security, and superior video quality to simplify the management of business-critical data centers.

Innovative Modular Architecture
Paragon II distributes KVM switching and control functions across
modular, intelligent components:

This product is just one part of the system for use of expansion of the compatible Paragon Switch model:
See Paragon Switches that allow use of expansion port P2-UMT832M and P2-UMT1664M

See also:
Paragon CIMS

Paragon II Stacking Unit - A cost-effective, space-saving expansion unit that allows you to easily add up to 128 non-blocked ports per switch with 90% less cable than cascading. Stacking units are compatible with Paragon II models UMT832M and UMT1664M. These units:
∑ Reduce the burden of multiple cables between tiers.
∑ Reduce Total Cost of Ownership (TCO) by more than 30%.
∑ Save one-third of rack space and HVAC resources.

P2- UMT1664Stacking unit switch 315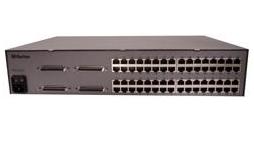 Features:
Compact form factors

All Paragon II Main Switches come in 1U to 2U form factors and can be rack mounted. The small form-factor saves expensive rack space and minimizes electrical consumption by lowering HVAC provisioning needs. Paragon II User Stations double as monitor stands and occupy zero foot print on the desktop.

Highly scalable architecture
Paragon IIís architecture allows up to 10,000 attached devices to be connected in a single logical deployment.

Stackable expansion units
Paragon II stacking units allow expansion of each switch to attach up to 128 devices per switch with a single cable. Stacking simplifies cabling between Ďtiersí by replacing pass through cables with a single expansion cable.

Choice of User Stations
Users can choose from three types of User Stations to connect to the Paragon II; the switch can operate simultaneously with the analog User Station (P2-UST), Enhanced User Station (P2-EUST), and the User Station with integrated IP access (P2-USTIP) for remote access to Paragon II-connected servers.

Multi-platform CIMs
Computer Interface Modules support USB, Sun and PS/2 for connectivity to various servers and other data center devices.

P2-ZCIM
Multi-platform ZCIMs (PS/2, USB/Sun and non-Sun/USB) allow users to connect up to 42 mixed platform servers on a single Cat5 chain. This is ideal for static environments that require less powering down of servers and moving of CIMs.

Non-blocked access
Paragon II provides 2, 4, 8 or 16 users unblocked access to connected servers via the P2-UST or P2-EUST.

Optional IP access with the P2-USTIP
The P2-USTIP user station with integrated IP access provides optional IP access for up to 2 users for anytime, anywhere browser-based access to Paragon II-connected servers.

Hardware independence
Paragon II allows different servers such as Windows, Sun, Compaq, HP and UNIX to be connected to the same switch. It also allows serial device connectivity via Raritanís AUATC adapters.

High video resolution
The Paragon II Enhanced User Station provides resolutions greater than 1600 x 1200 at distances over 700 feet, and 1280 x 1024 at distances up to 1000 feet, at refresh rates of 60Hz, 75Hz and 85Hz.

Manual skew compensation
Users can manually adjust the video clarity per server. Skew settings can be saved for use the next time the user logs onto the system.

Automatic skew compensation
When used with the P2-EUST, the new P2CIMs automatically adjust skew compensation to achieve the best video quality. (Manual skew compensation can still be done with older CIMs to override automatic settings in the new CIMs.)

Integrated power management
Provides a single, consolidated view and control of Raritanís Remote Power Control units connected to Paragon II. It automatically displays power strips and Paragon II targets on connected ports. Administrators can monitor status and power on/off/recycle power to remote equipment including servers, remote alarm monitoring, HVAC, and other critical data center equipment.

Paragon Manager administrative software
GUI software that drastically simplifies data center management by consolidating administration of all attached equipment; gives a single view of all connected devices; captures and saves system events for auditing purposes; allows firmware upgrades over the network, associates power outlets to connected devices and maintains system profiles.

Network-based firmware upgrades
Simplifies firmware updates by allowing administrators to push upgrades over the network Ė saving time and money.

Backward compatibility
Paragon II is backward compatible with existing Paragon equipment for investment protection and continued ROI.

Integration With Raritanís CommandCenter Secure Gateway (Via P2-SC)
Multiple Paragon II switches can be managed centrally and seamlessly through Paragon II System Controller (P2-SC) and CommandCenter Secure Gateway (CC-SG).


Raritan paragon system typical setup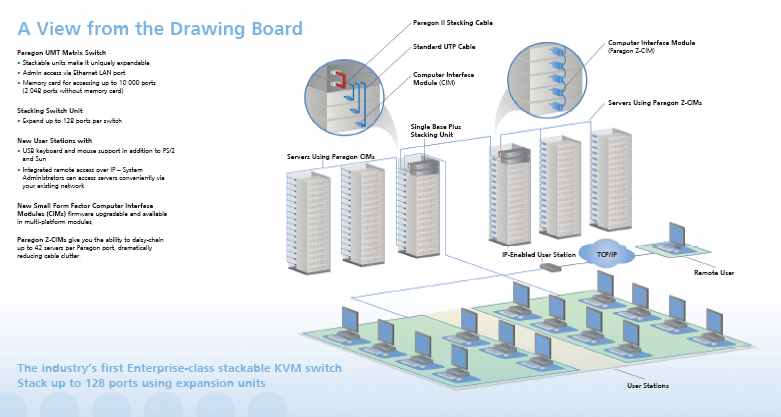 Specification:
Raritan P2-UMT1664S Paragon II Cat 5 Matrix Stacking Switch 64-port with integrated IP access


Stacking Switch.
64 x Computer Ports
1 x integrated IP access
---