Shop for KVM Raritan Products

Raritan P2-UMT442 Paragon II Cat 5 Matrix Switch 4-user 42-port ( Paragon 2 )
Description:
Proven Paragon Analog Technology with Stacking on selected models in range,
Optional Integrated KVM-Over-IP Access available and Superior Management Capabilities

Paragon II, the industry's best stackable Cat5 KVM (keyboard, video,
mouse) solution, gives IT professionals the power to access and control
servers and other network devices anytime, anywhere. With Paragon II,
you can stack up to 128 ports per switch and add up to 10.000 ports via
multi-dimensional expansion. Paragon II has superior KVM switch
technology that dramatically reduces equipment costs and optimizes
space utilization. What's more, this generation of Paragon provides the
highest levels of manageability, security, and superior video quality to
simplify the management of business-critical data centers.

Innovative Modular Architecture
Paragon II distributes KVM switching and control functions across
modular, intelligent components:

Paragon II Main Switching Unit - A secure, intelligent, non-blocked
control unit that connects users to servers. Its stackable architecture
provides the industry's highest port density making it ideal for large
data centers with densely packed racks.

Paragon II Stacking Unit - A cost-effective, space-saving expansion
unit that allows you to easily add up to 128 non-blocked ports per switch
with 90% less cable than cascading. Stacking units are compatible with
Paragon II models UMT832M and UMT1664M. These units:

Reduce the burden of multiple cables between tiers.
Reduce Total Cost of Ownership (TCO) by more than 30%.
Save one-third of rack space and HVAC resources.
New User Station
- Designed to fit conveniently
under the user's monitor, the Paragon II User
Station includes an intuitive on-screen user interface
(OSUI) for easy access to attached servers.
Connects to USB, Sun and PS/2.
New User Station with Integrated IP Access
-
Includes KVM over IP capability for anytime,
anywhere access and control along with a slim
design and GUI for point and click remote access.
Computer Interface Modules (CIMs)
- Provide
"keep-alive" keyboard/mouse emulation at the
server. Just plug the CIM into the server's keyboard,
monitor, and mouse ports and connect it to Paragon
II with a single Cat5 cable. New smaller and
slimmer Paragon II CIMs provide the added
convenience of firmware upgradeability without
interrupting the installed configuration.
Performance
Non-Blocked Access
- Up to 64 users have a clear
path to up to 10.000 servers, dramatically increasing
productivity with no user blocked from server
access.
Cross-Platform Support
- Seamless access to all
operating systems, platforms, and connections:
Linux, Windows® NT, UNIX®, Novell, Sun®,
IBM® RS/6000 and pSeries™, HP9000, Alpha™,
SGI, ASCII/ serial USB or PS/2.
Higher-Quality Video at Greater Distances
-
Paragon II's automatic video tuning delivers the
highest possible video quality. And, unlike
competitive offerings, it offers the capability of
fine tuning a signal for the individual eye.
Scalable
Grow as You Go
- Add, relocate, and hot-swap
components without disruption as your data center
needs change.
Access From Inside and Outside the Data
Center
- Flexibility to access servers from inside
and outside the data center, and globally over IP.
Enterprise Solution
- May be deployed individually
or integrated with any of Raritan's enterprise-wide
data center solutions including CommandCenter.
Flexibility
Streamlines management capabilities with
event logging and audit trails.
Distributed architecture lets you physically
position servers and users where desired.
Includes integrated power management
capabilities for remote power recycling.
Features
Continuous server availability via "keep alive"
technology.
Simple Plug-and-Play auto-configure installation.
Industry's broadest range of port devices.
Multi-platform CIMs for PS/2, Sun, USB, and
serial devices.
Flash firmware upgrades.
Applications
Enterprise-class solution
- Paragon II is a
proven, stackable switch, the perfect infrastructure
component for all high-density server environments,
including:
Corporate data centers.
Server farms.
Co-location facilities.
Web-hosting facilities.
Hardware and software testing labs.
Paragon Manager Software
A single, consolidated view of all connected devices.
Add, remove, or edit users and manage devices.
Perform system-wide firmware upgrades.
Log and audit all system events.
Integrated Power Management
Power on, power off, or recycle power to servers
and other attached devices.
Define security levels for individual users on a
per-outlet basis.
Get status of each connected power unit.
~~~~
Enterprise Data Centers
Features the industry's best video quality with resolutions as high as 1920 X 1440 at distances of up to 1,000 feet
Offers both manual and automatic skew compensation
Provides an intuitive on-screen user interface for PS/2, USB and Sun™ servers, as well as IBM BladeCenter®
Integrates with remote power strips to power on/off/recycle attached servers and devices
Allows optional remote access using IP-enabled User Stations or the Dominion KX II KVM-over-IP switch Can be part of a solution centrally managed by CommandCenter® Secure Gateway
Secure Government Data Centers – HSPD-12 Compliant with Smart Card/CAC/PIV authentication
Supports multifactor authentication access with smart card technology
Supports CAC and PIV cards, and is FIPS 201 approved. Learn more…
Eliminates unwarranted sniffing of the card's data via the network because Paragon II operates out of band
Broadcast, Production and Post-Production Facilities
Receives audio and digital video from a large array of broadcast and media production systems
Allows multiple designers and editors to simultaneously access the same devices for easy collaboration
Supports Deko® Fast Action Keyboard (FAK), and Kensington Expert Mouse and Turbo Mouse Trackball products
Enables up to four user stations to simultaneously receive the video output of a server that has multiple video ports
Provides easy transfer of video to any user station within a Paragon II system via video redirect
Paragon II UMT442 AT BACK and 832M ( 8-32 Port Model Pictured CLOSE UP ) 315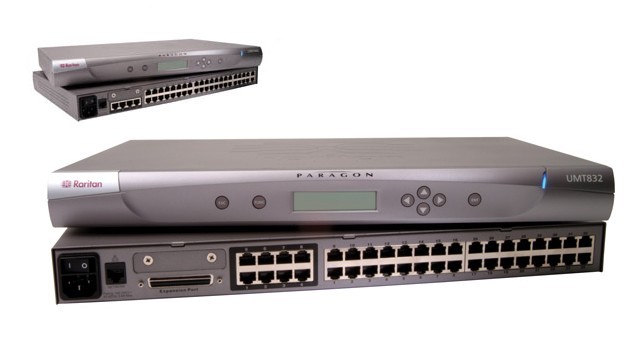 Features:
Paragon II
Now, the Industry's Best Cat5 KVM Solution is Even Better
Paragon Technology

Next generation technology built upon the most widely deployed KVM switching in the
industry.
KVM switching
Provides powerful BIOS-level access and full keyboard and mouse control of Windows, SUN
and USB servers – allowing administrators to maintain and control servers, as if they were
actually present at the rack.
High performance Analog technology
Paragon II's analog switching provides extremely high video quality ideal for use in
management-intensive scenarios such as in a Network Operations Center (NOC).
Stackable expansion unit
Paragon II's stacking unit allows expansion of each switch to attach up to 128 devices per
switch with a single cable.
Stacking architecture simplifies cabling between 'tiers' by replacing pass through cables with
a single expansion cable – saving up to 32 cables per switch.
Stacking allows a reduction in the number of units deployed by 33% (two units replace three
units) giving savings in initial cost, rack space and lower HVAC provisioning costs.
Highly scaleable architecture
Paragon II's architecture allows for connection of up to 10,000 attached devices in a single
logical deployment.
Cat5 Simplicity©
Paragon II leverages Raritan's Cat5 simplicity technology allowing any standard UTP cables
to be used, therefore allowing the use of existing cabling infrastructure or cost-effective,
readily available cabling.
Optional IP Access
Optional IP Access extends the typical distance between Paragon components allowing users
to access a Paragon II deployment from anywhere such as HQ, home, or while traveling.
Integrated power management
Provides a single, consolidated view (and control of) Raritan Remote Power Control Units
connected to Paragon II, allowing administrators to monitor status and recycle power to
remote equipment including servers, remote alarm monitoring, HVAC, and other critical
data center equipment.
Paragon Manager administrative software
GUI software that drastically simplifies management and monitoring of the data center by
consolidating administration of attached equipment. With a single view of all connected
equipment via the LAN, Paragon Manager lets you capture and save all system events for
auditing purposes, push firmware upgrades via the network, and maintain system profiles.
Firmware upgradeability via network connection
Simplifies the upgrading of firmware updates by allowing the administrator to push upgrades
out over the network and complete installs from the NOC – saving time and money.
Cross-platform and hardware independent
Allows the connection of multiple disparate servers such as Windows, SUN, Compaq, HP
and UNIX-based servers. Also allows serial devices to be connected with the use of
Raritan's AUATC adaptors.
Backward compatibility
Paragon II is compatible with existing Paragon equipment avoiding equipment redundancy
and allowing continued ROI.
Small form factors and rack-mounting
Very small form-factor saves expensive rack space and makes it perfect for large data centers
where space is at a premium. Reduced form factors minimize electrical consumption by
lowering HVAC provisioning needs.
AC Power: 110/220V Auto-Switching
Integrated power supply ensures proper power provision and system reliability.
Specification:
Raritan P2-UMT442 Paragon II Cat 5 Matrix Switch 4-user 42-port ( Paragon 2 )
Superior Management Capabilities




THIS UNIT:

1 x Management Connection RJ45 Port

4 x RJ45 Socket User Ports
42 x RJ45 Socket Computer Ports
( Required to be used with associated
User Station & CIM's SEE COMPATIBLE PRODUCTS )

1 x IEC Power Input Port


No stacking port on this Model

Cascade with other Paragon units via Output ports into user Input ports of next units.

Click here for further information
---